Essential Christmas Beauty Tips to Keep You Glowing All Through the Holidays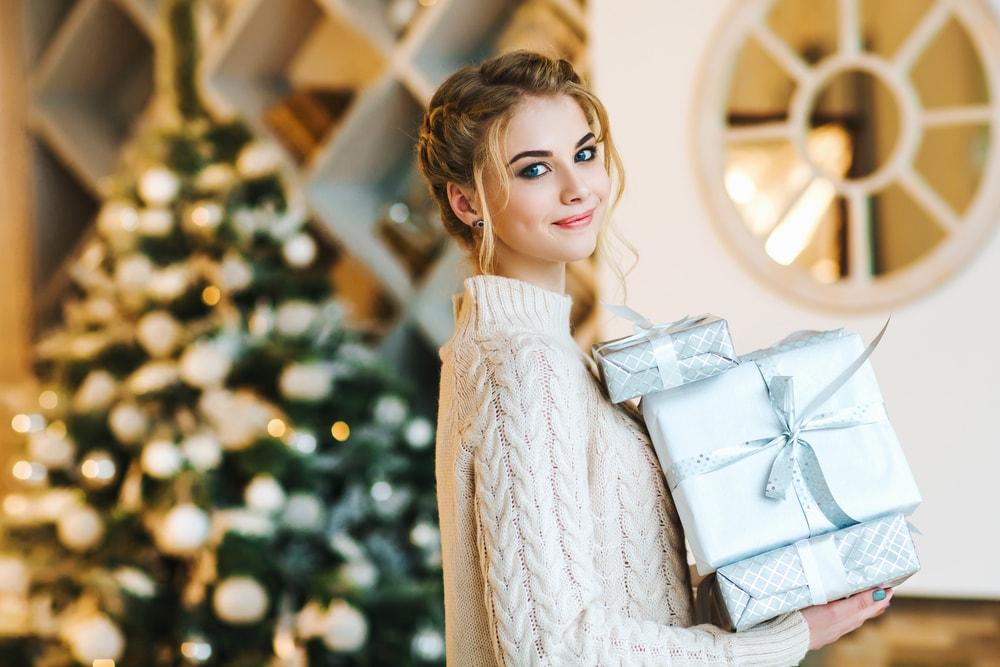 It's the most wonderful time of the year, as the song goes. After an entire year of working hard, you deserve a festive end of the year. But Christmas almost always means more things to do: decorate the tree, gift shopping trips to the mall, holiday cards to handwrite, gifts to wrap and deliver, outfits to coordinate and purchase, menus to plan and cook, etc. And then there are the events you're looking forward or dreading to attend: office party, church potluck, club get-togethers, meeting old friends, and perhaps even driving home to see your relatives. Christmas also means struggling with hangovers, puffy party eyes, and perhaps too much peppermint candy canes and eggnog. You'll want to look and feel your best throughout the holidays, even with a gargantuan overload of activities.
Looking as festive as the season doesn't have to be complicated or expensive. Even with the frantic schedule and little time to primp, you can enjoy the holiday frenzy and the parties that go with it in grace and style. Here are our essential Christmas party beauty tip, from preparation to party to the after-party, a guide to keep you positively glowing all season long.
Prep
Dry, sullen complexion, dark under eyes, brittle hair, and chapped lips: these are the unwelcomed and uninvited visitors that come to those fab Christmas parties and gatherings. To cope with winter dryness and keep that healthy glow even when the weather has started to get bleary, preparation is key.
Keep Hydrated
Winter drafts and late nights can leave your complexion looking tired and shriveled. No, coffee and wine don't count. Drink plenty of water all day, to keep you hydrated inside and out, and prevent breakouts.
Eat well
When the schedule is hectic, the healthy eating plan gets put aside. It's easy to reach for comfort food than toss up a salad when juggling several tasks to finish. But too much junk food will drop your energy levels right when you need them at high. Having a bunch of meals prepped in advance and placed in ready-to-go containers can save you from grabbing a potato chips' bag just because it's convenient. Food supplements can give you a boost, especially on days when it's impossible to eat well; they can ensure you're getting the vitamins and minerals you need to look and feel your best.
Exfoliate
With dry indoor heating and freezing outside air, the winter weather makes your skin dull and dry. As your skin dehydrates, and dead skin cells pile up faster. Regularly exfoliating the dull, dead top layer of skin will ensure that your skin can cope with winter dryness, as new skin cells will be able to absorb the hydrating boosts they need. Finish off with a rich, natural oil to seal in moisture. Exfoliate at least twice weekly.
Eye Lift
Late nights are inevitable during the holidays. And partying may leave you feeling tired, but there's no reason to also look it.
Give your eyes a simple and gentle massage, starting from the under-eyes' outer corners to the inner corners, then the upper lids' inner corner, and out towards the outer corners. Finish by sliding your fingertips down the sides of your face, towards the base of the neck. Repeat a few times. It should be done gently using a natural oil such as coconut oil or almond oil, so your hands and fingers won't tug the delicate skin of the eye area.
An extra boost of collagen to your under-eye area will keep them soft and hydrated. Using a pair of under-eye masks is the best method to deliver much-needed hydration and moisture. Sheet or gel under-eye masks will penetrate deeper and not evaporate or rub off right after application.
Lip Care
As the winter months approach with bustling winds and plummeting temperature, the lips are the first to dry up. To relieve dry, chapped winter lips, ensure that the moisture that's lost is replenished regularly. But applying moisture to lips laden with dead skin is somewhat useless as the moisture applied is only sitting on top and can't get through to the new skin cells. Buff off the dry, top layer of skin from your lips with a lip scrub.
You can mix one-part of our Sugar Glow Coffee Scrub with one-part natural oil. Sugar Glow Coffee Scrub is all-natural and has Arabica coffee grounds and golden sugar granules as the main ingredients. Coffee has antioxidant and anti-inflammatory properties, and sugar has natural hyaluronic acid, which means polished and moisturized lips in one application. Coffee also re-energizes skin, bringing a welcome flush of color to your lips during the winter months. Gently scrub for 2 to 5 minutes and rinse off with lukewarm water. Scrub your lips every three days.
For non-coffee lovers or for those who value convenience, try Bodyblendz Lip Scrub. It is rich with vitamins and nutrients, and will gently yet thoroughly slough off dry, peeling lips. Use a natural oil or a non-petroleum jelly lip balm to finish off. Always have a lip balm in your purse for quick lip moisture touch-ups.
Party
Say cheese! With all the soirees you need to go to, it's almost a guarantee that you'll be in front of the camera at some point. You'll need an easy make-up routine that looks festively beautiful and lasts all night. On or off camera, here are some Christmas party beauty tips to get and keep you sparkling.
Face
Everyone wants their makeup to last for eternity. And yes, you just want to be fully with your party companions, enjoying the festivities without having to worry if you need to touch-up – every 30 minutes.
When you absolutely have to have your makeup to last, having a good primer and setting or finishing spray is a must. After you've applied your primer and foundation (sometimes they come 2-in-1), apply the rest of your makeup. Finish off with a setting spray; it's like hairspray but for your face. Hold your spray about 7-10 inches from your face, close your eyes and spray first in a T and then in an X motion. For everyday wear, it's not a necessity; you can opt not to use primers and setting sprays. But if you want your makeup to stay on your face and not fade away or rub off quickly, don't forgo these steps. Now you're ready to dance the night away, knowing everything you've applied will stay in place for some time.
Eyes
Pretending to have boundless energy won't work when you're truly fatigued. Eyes, the said windows to the soul, can't lie. They will be dead giveaways of how full your calendar truly is. Hopefully, you have prepped your eyes by masking and moisturizing beforehand. Here are a few makeup tips to ensure your eyes look alert and bright.
After your primer and foundation, apply eye makeup first so you won't get eyeshadow dust and glitter on the rest of your newly applied makeup.
Use a brightening under-eye concealer not only on your under-eye area but also apply on the 'dreaded 11s' in between your brows. Your eyes will look so much brighter and fresher. Under-eye creases from makeup happen when you use too much product. Apply lightly, add another layer or two as needed, as opposed to a single heavy pass.
Line your lower lashes with a deep blue or deep plum eyeliner. They will whiten your eye whites and make your irises come alive by countering the tired yellowish or reddish hue of your eye whites.
For extra pop and instant brightening lift, apply a shimmering illuminator or highlighter such as BodyBlendz Lip Balm to the inner and outer corners of your eyes. Also, apply under your brow bone for definition and shimmer.
Cheeks
When lackluster winter skin takes over, a dash of color on your cheeks can lift your look instantly. But when the summer sun's kisses have faded, popping color blushes such as the bright fuchsias and reds on your cheeks will make your complexion look paler. All good if that's the look you like. If not, look for shades from the versatile neutrals like peach or pink or any neutral-hued blush that's a shade or two lighter than your spring and summer colors. Using blush in cream form, rather than powdered, is best for dry winter skin. Cream blush brings lush softness to your cheeks that look natural. Plus, they're easy to apply and blend as well.
Lips
Holiday parties are most definitely a time of overworked lips for some people, from coffee and champagne to cookies and pates to hello kisses and mistletoe kisses. In between all those 'lips' activities are numerous lipstick retouches.
By avoid glossy or shimmery lip products, you can keep your lip color on your lips and not on your goblet nor on the cheek of someone you've just pecked. Yes, 'tis the season for blinding sparkles, only not on your lips; not if you don't want to have to re-apply lipstick 20 times a night.
After you've applied a lip balm or moisturizer, line your lips. This will prevent your lip color from 'bleeding' into the skin around your lips. Then dab your matte lipstick. Voila! Kissable pout with color that stays on. For extra measure, you can cover your lips with ill tissue and lightly brush on setting powder.
Hair
Can't fit a trip to the hairstylist in your packed calendar, and you need a fabulous holiday party hairdo pronto? You can wear a loose ponytail, a messy chignon, a slightly teased crown, or a low, side bun. Just add a sparkly hair accessory, and you're ready to go. To prevent hair accessories from sliding down your hair, spritz some hair spray on them and let dry before embellishing your hair.
Alternate winter cold air and warm indoor heating, along with beanies and scarves, will leave your hair not looking so glamorous. Apply hair oil or leave-in treatment to keep moisture levels up.
To prevent hair fly-aways, carry a small hairspray bottle and a fine-tooth comb with you. After you've styled your hair and you still see pesky fly-aways, simply spray your comb and smooth that part of your hair only. You'll get your hair looking fresh and polished without having to spray your entire head, and thankfully, you won't have to look like you're wearing a heavy, hard hat for a wig.
Post
After Party
Even when you're too tired at the end of the evening, always remove your makeup. Late nights, alcohol, and winter weather will leave your complexion a lot less than radiant. Add makeup left overnight to that, and you might just end up looking like the Grinch's cousin the next day. Thoroughly cleanse your face and moisturize. Do a twice-weekly brightening, hydrating mask session. Use face masks that contain collagen and hyaluronic acid to combat the effects of late party nights and cold, winter air on the skin.
That's it. Hopefully, you'll find these holiday party beauty tips helpful. No matter how frantic this season gets, remember is to find ways to save time when you can, have fun along the way and, of course, still look fabulous. Worrying and stress will take the sparkle off of even the most put-together person. Truly enjoying yourself with your friends and family this season is the best beauty treatment available – and it's free to boot. You'll have your eyes truly sparkling, your smile dazzling, your skin glowing, and your whole being radiant.