Achievable Skin Care New Year's Resolutions: Gorgeous Skin for Another Decade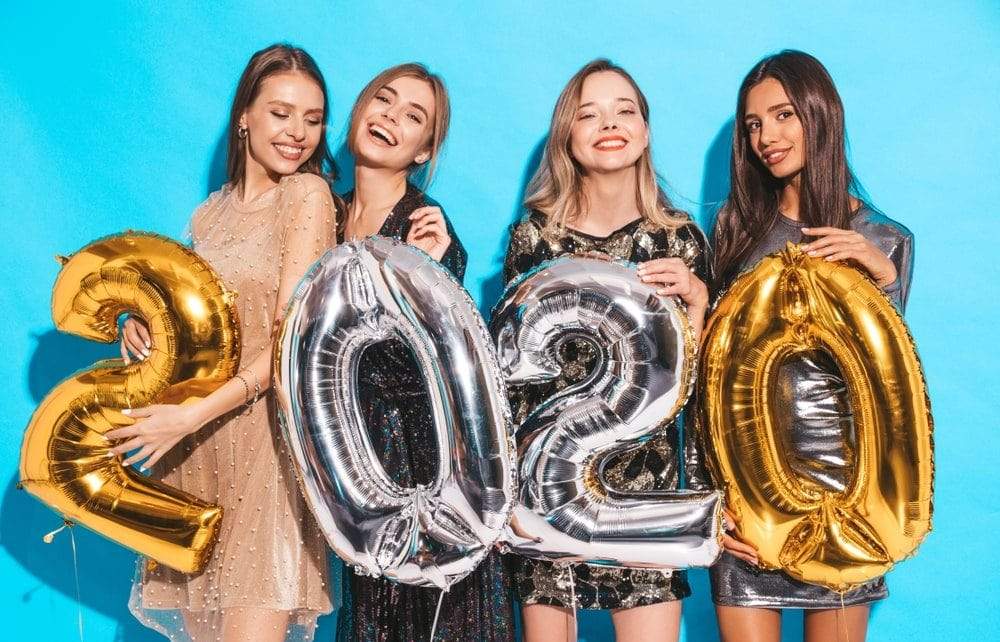 New Year's resolutions are on everyone's minds at the start of the year, but perhaps only half or even lesser are fulfilled by the end of the year. The secret to achieving the goals you set for yourself is to divide these goals into smaller chunks, instead of the usual gigantic, often insurmountable tasks.
For this blog article, let's focus on the skin care chunk. New Year's resolutions for skin care that anyone can do. And what better time to start good skin care habits than the beginning of a new year – in this case, a new decade. Here are recommended, simple daily and weekly to-dos that will make your skin all over, all year and if you kept at it, all decade long.
Hydrate from Inside Out
You know you need water to maintain beautiful, youthful, healthy skin. Skin that is not well hydrated will lose elasticity and will manifest fine lines and wrinkles.
Everybody knows water is not only great for your skin but for overall health as well. What people might not know is that when a person is dehydrated, the organs source water from the blood, which in turn suck water from the skin. This chain reaction will make your skin appear dry and feel dry; your eye sunken and sullen. If this reaction continues, premature aging sets in.
So, guzzle up! No coffee and cola and Kool-Aids don't count. Drink pure H20, at least 8 8oz glasses a day for a start. This year make a vow to drink like a fish. Drink all day. Bringing that giant water flask would be a good idea.
Get Moving
Like hydrating with water, exercise is excellent for your skin too.
Regular exercise helps to decrease unhealthy levels of the stress hormone, Cortisol. Stress or too much Cortisol can cause skin breakouts and the breaking down of collagen, leading to sagging and wrinkling.
Getting active means an overall increase in blood flow, which carries nutrients and oxygen to cells. Allowing for well-oxygenated, well moisturized, healthy, and happy skin cells. This blood flow helps get rid of waste and toxic compounds such as free radicals.
You don't have to do Insanity Workouts if you don't want to. Do fun activities like swimming, biking, and Zumba; they can work just as well. Exercise is certainly a must for a holistic approach to skin care.
Supplement for Suppleness
Along with a good skin care regimen, a healthy diet and lifestyle are what's needed for that coveted glow- from-within, healthy skin. But sometimes, what we eat won't be enough for what our skin needs. Even with nutritious meals, some nutrients are lacking in the modern diet. Supplements are a great way to boost our body's ability to support our skin from the inside, keeping the skin elastic and out of reach of breakouts and premature wrinkling.
Some wonderful supplements to achieve supple and clear skin are:
Fish Oil - Fatty acids in fish oil, like omega-3, boast of several proven health benefits. For the skin, Fatty acids assist in collagen production and maintain the skin's hydration levels. They are essential for skin suppleness.
CoQ10 - Simply one of the best supplements for gorgeous skin. CoQ10 is an antioxidant that helps remove toxins, and free radicals help to replenish collagen.
Vitamins - Vitamins A, C, and E help the production of elastin and collagen and aids in healing damaged cells. Vitamins Bs helps relieve acne and rashes, helps heal dry, flaky skin.
Turmeric -Turmeric has anti-inflammatory properties and thus helps relieve acne and other skin irritations.
Sheet Masks
Face masks drench your skin with skin beneficial serums. They do it efficiently, and they do it intensely. Sheet mask creates a barrier between the serum and the environment, so you don't accidentally wipe it off or have the air dry it up before any effects actually occur. Clay masks are great for detoxification; it reaches deep down to unclog and clarify pores.
If you were masking your face sporadically last year, aim for the recommended once to twice weekly this year.
Don't Pop it!
Pricking a pimple can spread bacteria and pus, possibly infecting the surrounding pores, which might then form a wider acne breakout surface. Popping a pimple can leads to broken skin and the risk of permanent pimple scars. Sometimes while trying to prick a pimple, bacteria and dirt gets pushed deeper to create a clogged pore that may develop into inflammation under the skin.
As a rule of thumb, don't pop pimples. Dot them with acne cream instead. If you popped pimples before, we know that it's a hard habit to stop. But for this year, resolve to avoid popping them yourself. Either visit your aesthetician, or if you insist, learn the proper way to pop a pimple first.
Keep Skin Fresh
Your pores need weekly or twice weekly de-clogging, buffing maintenance sessions. Keep your skin fresh by removing dull zombie skin cells that like to hang around long after they're dead. Let your pores breathe by lifting off dirt and excess oil, using a body scrub.
Improve the body's blood circulation and allow the nutrients to flow to the cells. Regular body scrubbing rejuvenates skin to result in visibly brighter skin with improved texture and tone.
Your expensive serums and body creams get readily absorbed by a freshly scrubbed skin. And if you tan your skin, sunshine, or with a self-tanner, a scrubbed skin allows for a natural, even-looking glow.
When choosing an exfoliant, make sure the product contains natural abrasive like salt, sugar, bamboo powder, and coffee grounds. Plastic micro-beads are harmful to your skin as well as the environment.
Clean Face Every Night
A face full of makeup, excess oil, and whatnot while slumbering, we've all been guilty of this crime at one time or another. Perhaps New Year's Eve parties are to blame for us greeting 2020's first day with mascara goop and lipstick smears our faces and pillows. This year, no matter how tired, show your skin some love - cleanse before bedtime.
Every night, gently remove makeup, sebum, bacteria, dust, and other impurities. All these on your face for eight hours will cause clogged pores and irritations. Depending on your skin type, you'll end up with a shiny, oily face or super dry blotchy skin. If this happens often enough, your skin will likely be prone to breakouts and premature wrinkles.
If you are too tired and too sleepy to do a proper cleanse, moisten a cotton pad with a gentle no-rinse cleanser or micellar water to remove most of the day from your face.
Moisturize Day and Night
After cleansing, moisturizing is the next important step in your skin care ritual. Moisturizers not only keep your skin hydrated; it also acts as protection from the environment. For daytime, choose light moisturizers with added SPF. For nighttime use, choose a more intense hydrating product to work on healing and keeping your moisture levels throughout the night.
Even people with oily skin need to moisturize. The more you strip your skin of oil with excessive astringent and drying soaps, the more the skin will produce oil to compensate. Like normal or dry skin types, oily skin still needs protection from dust, wind, sun, and other pollutants. Pick water-based or similar lightweight moisturizers if you have oily skin.
Beauty Sleep
Waking up from a night of restful sleep makes you energized and ready to tackle the day ahead. Will waking up after an approximately 8-hour restful zzzz make your look prettier? Absolutely! Sleep has a huge impact on our bodies, that includes our skin. We regenerate and rejuvenate when we sleep. Cortisol, the stress hormone significantly lowers while Melatonin, the sleep hormone, rises as we sleep.
Our bodies are actually trying to repair the wear and tear of the day when we sleep. Anything less than 6 hours of sleep, the lack of sleep will definitely show on our faces the next day.
Besides overall health benefits, quality nighttime sleep will result in depuffed, bright eyes, a more lifted face, lesser signs of aging, and even healthier and stronger hair and nails.
Boost your nightly rejuvenation by using serums and moisturizers before going to bed. Using silk pillowcases and eye masks will lessen wrinkling caused by side sleeping positions. Because silk glides easily, they are great for hair too; they help lessen breakage and tangles while sleeping.
Green Skincare
Last year, more and more information came out about nasty chemicals and ingredients that cause harm, not just to the skin but our health and the environment as well; parabens, sulfates, petrochemicals, plastic microbeads to name a few. This year, go the green route towards healthy skin. Commit to making intelligent choices, choose products that are not only safe for human use but are also sustainably sourced and safe for the environment.
Inspect your toiletries and skin care products. Check if what you're using are all-natural with no harmful chemicals that will have negative side effects long term.
There you have it, ten New Year's resolution towards a healthy, glowing skin that are doable and easy to stick with. Greet the brand-new year with your best face on and looking even more radiant going forward.