We Dare You to Shimmer - Naturally!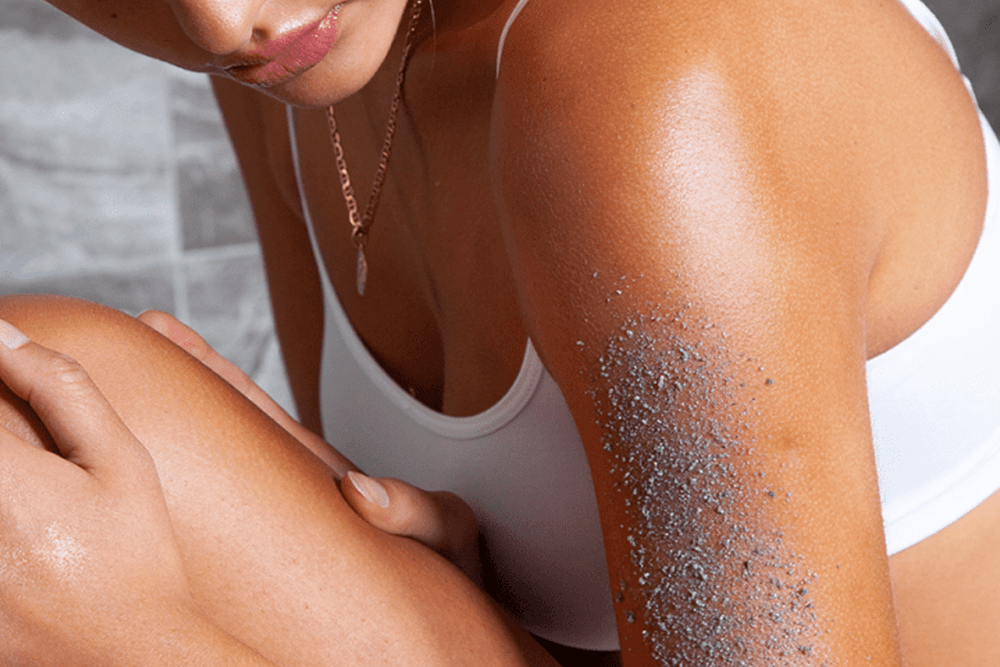 Take your exfoliation game a level higher. Envelop your skin with the potent blend of natural essential oils and extracts, Arabica coffee grounds, activated charcoal and micro mica minerals. All these skin-loving goodness work together to set your skin not just clean and healthy but literally shimmering.
Like other BodyBlendz coffee scrubs, Coffee Shimmer Scrub will help shed dry, dead skin cells; calm redness, puffiness and other skin irritations; and diminish the appearance of cellulite and stretchmarks. But beyond that, activated charcoal is added to draw out bacteria and toxins to the skin's surface, allowing for deep cleaning and unclogging of the pores.
And for a natural looking all-over shimmer (that adheres to your skin but not to your clothes), fine mica minerals is blended in to complete this brilliant formulation. Coffee Shimmer Scrub is even gentle enough for use on sensitive skin.
While scrubbing with Coffee Shimmer Scrub might not transform you into a holographic goddess in an instant, you'll definitely have gorgeous, smooth and softly gleaming skin.
What's in it?
100% cruelty free and vegan. Natural ingredients inside every BodyBlendz Coffee Shimmer Scrub are selected to synergistically work towards not just healthy, fresh skin but one that actually shimmers.
Key Ingredients:
Coffee
Rich in antioxidants, finely ground Arabica Coffee beans, has the ability to fight inflammation and irritations, reducing redness and calming down acne-prone skin. Coffee also buffs off clingy dead skin cells naturally, as well as help firm up the skin and boosts the skins elasticity, making coffee effective in reducing the appearance of cellulite and stretchmarks.
Activated Charcoal
Activated Charcoal thoroughly cleans the pores by drawing out dirt, bacteria, and other toxins, without drying. Effectively treating skin troubles like enlarged, clogged pores and acne.
Mica Minerals
Naturally occurring mica minerals are crushed to powder-fine texture enabling the ready blending into the body scrub formula, as well as, the easy application to the skin. Mica minerals provide a natural glow by reflecting light off the skin resulting in a flattering shimmery glow.
BodyBlendz Coffee Shimmer Scrub is packed with all-natural goodness, a meticulous mix of organic essential oils and extracts and other natural ingredients.
These ingredients contain antioxidant, anti-inflammatory, antiseptic, and anti-aging properties that help to achieve a healthy, glowing skin.
Sugar contains natural humectants that draw just the right amount of moisture from the environment to hydrate and protect the skin. Golden sugar granules work as a natural exfoliant, buffing off dead skin cells without tearing the skin's surface.
Kakadu Plum Extract is a rich source of antioxidants and Vitamin C. One Kakadu plum fruit can have as high as 100 times the vitamin C content than that of an orange. Vitamin C naturally lightens discoloration and restores the skin's natural barrier that protects it from UV damage.
Vitamin C in Kakadu plum also helps minimize the appearance of wrinkles by assisting the body's ability to produce collagen. Resulting in an overall improvement of skin tone and firmness.
Green Tea Extract contains catechins, powerful antioxidants to help absorb bacteria and calm down irritation thereby reducing redness and skin irritation.
Coconut Oil is a superfood and a wonder oil. It contains fatty acids that counter the overproduction of oil on the skin. Coconut oil has natural antimicrobial and anti-fungal agents such as monolaurin and monocaprin that are effective against skin problems like rashes, itches and eczema. Coconut oil also relieves dry, flaky skin without over-moisturization.
Jojoba Oil is packed with essential nutrients such as natural silicon, copper, zinc, vitamins B and E, that repair, hydrate and provide natural oils that help slow the aging process.
Other natural oils such as: almond oil, olive oil soften and smoothen skin by immersing skin cells with nutrients. Both contains Vitamin E, which repairs and protects the cells from further damage.
Another powerful antioxidant and skin regenerating powerhouse, Vitamin E, protects skin from sun damage, hydrates and nourishes the skin as well as prevents the appearance of fine lines and wrinkles.
What's NOT in it?
All BodyBlendz products are made with only healthy and natural ingredients, Coffee Shimmer Scrub is no exception. What's not in every Coffee Shimmer Scrub bag? For starters, not a minute of dullness! There's also no SLS, SLES, plastic micro-beads and other harmful chemicals and irritants.
How to Use
After cleansing the skin with your favorite body cleansing product, rinse. With skin still damp, scoop some Coffee Shimmer Scrub with your hand and apply to skin. Rub gently but thoroughly and leave on for at least 2 minutes. Use 2-3 times weekly to see steady, illuminating results.
Dare to Amp Up the Shimmer?
Use Coffee Shimmer Scrub with the complementing Bronze Shimmer Body Oil and the Illuminating Balm. These trio work beautifully together as scrub, after scrub skin care, and face and body highlighter. Softness and shimmer that lasts all day! Available with a $10 discount, when purchased as a set.
Experience Coffee Shimmer Scrub, skin so good, it undeniably shimmers.