Save Your Skin While Traveling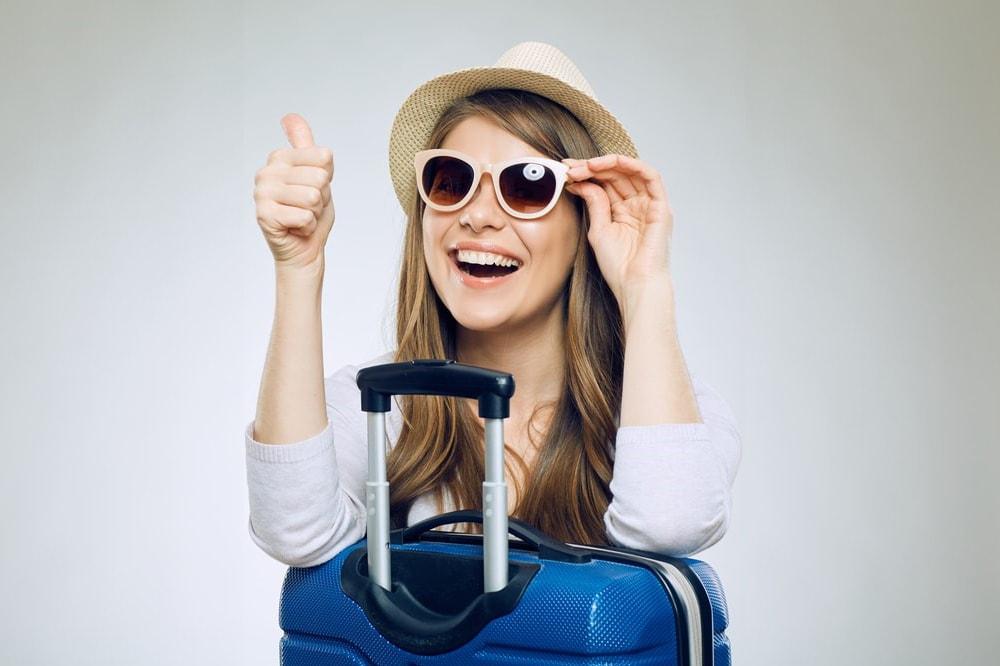 Traveling days can affect your skin condition, usually in ways that are less than exciting. Lack of sleep due to a full and unpredictable schedule can cause stress to your body and mind but especially for your skin.
Changes to weather, prolonged exposure to horrendously-drying, recirculated airplane air, outdoor humidity levels together with too much sugar, caffeine and perhaps even alcohol can all add up to having tired and dull skin punctuated with unwelcome breakouts.
Some changes are inevitable when traveling. You will probably eat different types of foods, who knows how those foods affect your skin. And you might indulge in caffeinated and even alcoholic drinks when you're stuck in an airport. The same can be true when you're catching up with friends or meeting new ones at the local cafes.
Like it or not, your skin can be exposed to unfavorable levels of humidity and pollution. The weather of the place you are going to will likely play a role in the health of your skin. If the destination's weather is colder and therefore drier, you will experience drier-than-normal skin. If you are traveling to a place where the climate is warmer, with more humidity, your skin might become oilier and you may experience breakouts.
Travel affects your skin — usually for the worse. You're stressed, dehydrated, and changing your routines left and right. But you do have a way to control and prevent some of the factors that will negative affect your complexion. So how can you keep your skin looking its best? It's simpler than you may think but it does need a little time to prepare. Here are some skin care tips to maintain a beautiful healthy complexion even when traveling:
Keep Skin Hydrated
There is no doubt traveling can do all sorts of harm to your skin. One of the biggest culprits is lack of hydration – inside and out. Clean and well hydrated skin is sometimes not to easy to achieve even when at home, you can imagine just how much harder will it be when you're traveling.
Over-caffeinated drinks might be the saving grace in certain situations, but you will pay the price with dehydration. Coffee being a diuretic, it causes you to lose water. If you're going to a warm climate, sweating also dehydrates you.
With a water bottle always beside you, you can constantly keep yourself hydrated throughout your trip. Your skin will need hydration from the inside out. Facial spritz will help hydrate your skin from the outside.
While we're on the subject of water, make sure to wash your face and hair with warm and not hot water. There's nothing like as comforting as having a hot shower especially on a freezing night but doing so is rather damaging to skin surface and hair follicles. Hot water strips your hair and skin of their natural oils.
Simplified Skincare and Makeup
Even when you're used to wearing a fully made-up face every day, it is advisable to travel with the barest make-up essentials that you can manage. The more layers you apply while traveling, the more likely you will get trapped dust and dirt in your skin's pores thus causing breakouts and irritations. Of course, when you have a formal event to attend, you can resume donning your glamorous make-up looks.
Use products that save you space in your carry-on bag and save you application time. Products such as using CC creams, they can be used as a foundation and a concealer. If you must have a bronzer and highlighter, bring one that you can use for both face and body. Another example would be: a face scrub that also acts as mask and skin conditioner.
Skin care when traveling can be and should be uncomplicated. Depending on your skin condition and skin type three or four skin care products are all you need. The four skin care steps you will need are: cleansing, moisturizing, mask or scrub and sun-protection. You can add spot medication for breakouts and serums for more intense moisturization.
Skin Care Travel Essentials
Cleansers
When traveling, you can get off track and forget your routines; skin care being one such routine that you can readily fall off of. Too tired or too excited to set aside time to clean the face? You might be tempted you to skip this step. However, of all the skin care steps, skipping cleansing is the worst for your skin.
Rather than bringing several cleansing products or using the airplane or hotel soaps on your face, carry pre-moistened towelettes for use on any cleaning of your skin you might need. These cleaning towelettes, especially the micellar ones are gentle yet can remove even waterproof make-up.
Pre-moistened cleaning towelettes are handy and great to use on the transport vehicle or in the hotel room. They are also TSA-compliant as a carry-on item; they do not count as a liquid item that may need to be checked.
Toners and Mists
If applying toners is a part of your skin care routine, this is one step that you can skip while traveling. Instead of a toner, bring a face mist instead. Every time you spritz your face, you're literally adding much needed hydration to your face.
There are several types of face misting sprays to choose from. Cucumber and green tea face mists are wonderful to use when you are traveling to warmer weather, cucumber and green tea are suitable for normal to oily skin types. Rose water and aloe vera face sprays are great on normal to dry skin, and works beautifully when traveling to cooler places.
A hydrating face mist on bare skin can tone and hydrate at the same time. On made-up face, it can act as an effective makeup setting spray or a make-up softening/blending spray.
Moisturizers
We are all in love with our favorite moisturizer. But bringing a moisturizer suitable for the weather of your travel destination is more important. Bring less emollient moisturizers for warm climate destinations. And take a richer, more hydrating moisturizer to cooler climate destinations. Mix them up and you'll skin will let you know how unhappy it is with your moisturizing product choice.
Also, use a moisturizer to double as your under-eye cream. Face creams and moisturizers are typically richer than the gentle under-eye cream, but for the duration of your trip a lightly and sparingly applied moisturizer under your eyes will keep your under-eyes hydrated without having to bring another skin care product.
Special Treatments
A great pick me up for dull, tired looking skin during travels is by using the handy face sheet mask. They're easy to apply and easy to remove. You can relax on the plane or in your hotel room with a skin de-stressing face sheet mask. You won't have to worry about the formula evaporating or rubbing off of your face. The sheet mask keeps the serum in place until it is time to remove them.
Other special treatments for the face include, spot acne ointments, eczema creams, etc. Find the smallest size you can buy or transfer them to a travel-sized toiletry containers.
Sunscreen
For destinations to warmer climate, bringing sunscreen is a must. When you're cruising at 10,000 feet on the air, you're so much closer to the sun. You'll have a much higher risk of sun burn compared to your burn risk when you were on the ground. Wear a good sun-protecting product prior to flying and re-apply every so often during a long daytime flight, especially when you're seat by the window. Even if you've decided to pull down your window shade, the sun's rays can still enter through the other windows on the plane.
And when you're on the ground, either working on your tan on the beach, or excavating an archaeological dig in the desert, apply sunscreen and remember to re-apply as often as recommended on the product label.
The other things you might need
Aside from pared-down skin care and make-up products, sipping and spritzing water every chance you get, other handy things you might want to take with you are:
An oil blotting paper is handy and effective at making your face clean and looking fresh. Excess oil attracts dust and other particles, which will then turn into skin breakouts. With a touch of the blotting paper, excess oil will be removed and T-zones will be easily de-greased. Plus, oil blotting papers won't disturb make up or leave residue that normal tissue papers will.
Bring a silk or semi-silk pillowcase and eye blinders. They greatly help in de-creasing, reducing unsightly sleep-trenches from appearing all over your face due to awkward sleeping positions while traveling. As an added bonus, a silk pillowcase can prevent your hair from drying, snagging, and breaking. Your hair won't have to look like a static-fied poodle with a silk pillowcase around.
If you want to extend skin care to the rest of your body, an easy to use natural body scrub can clean, exfoliate and revitalize tired-looking skin. Cream form body scrubs are easy, no-mess for on-the-go use. Depending on your skin type, you don't even have to moisturize after scrubbing. Cream-type body scrubs are not only skin refresher, they are also lightly moisturizing.
Take multivitamin supplements with you. If you can, get your vitamins, antioxidants and nutrients from natural source. You may strive to still eat healthily during your trip by eating fresh fruits and lots of veggies. If you but if you can't stick with it, a good second choice is having a multivitamin supplement on hand. At the very least, have vitamin Bs, C and E to maintain a beautiful complexion even when traveling demands a lot from your skin.
Yes, you have a million things to check as you pack and get ready for your trip. Skin care might be one of the lasts things you'll think of. While travel skincare is not rocket science, it does take a little time to prepare. Before you force shut your luggage, consider prepping and planning to literally save your skin.