Magical Macadamia Oil Skin Benefits You Can Believe In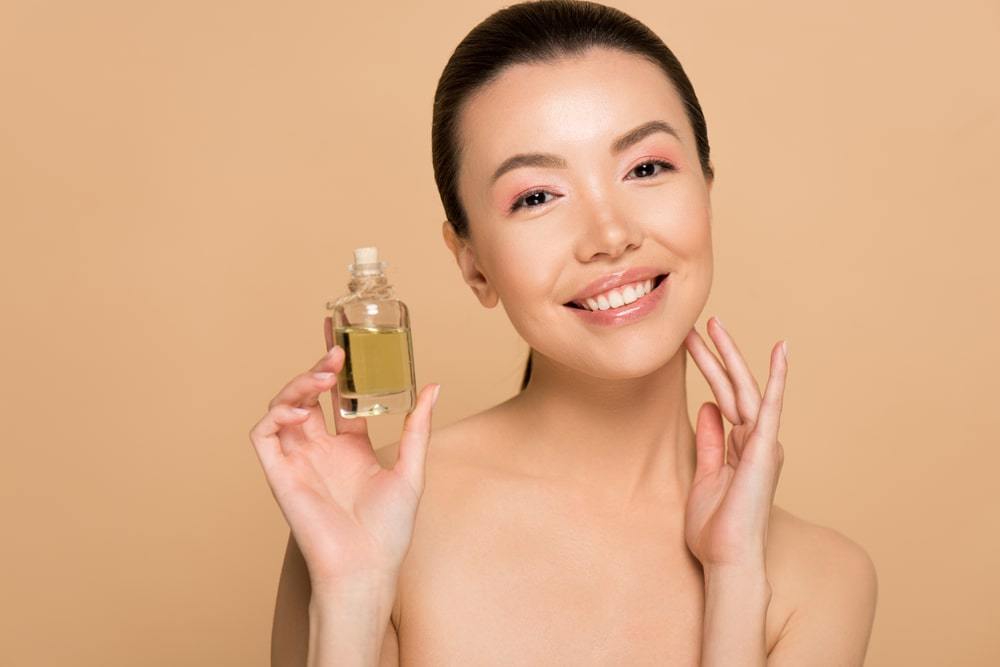 Olive Oil and Coconut Oil have been soaking up all the skin care spotlight as the go-to natural oil for some time now. Another natural oil is fast catching up with the previous two and rightfully gaining popularity – the golden Macadamia Oil.
Enjoyed as a snack, Macadamia nuts have been known to boost energy, balance digestion, and maintain a healthy heart. They are rich in vitamins, minerals, antioxidants, fiber, and healthy fatty acids. As part of a skin care regimen, Macadamia Oil uses the same micronutrients and healthy fats to amazing results.
Not sure about Macadamia Oil's skin benefits? Let's discover why this best kept beauty secret ingredient might just be your skin's newest best friend.
Why Macadamia Oil?
Similar to skin's natural oils. Macadamia Oil's composition is similar to the skin's natural sebum with about 80% monounsaturated fatty acids. That means our skins won't reject Macadamia oil and assimilate it rather easily. Aside from almost mimicking sebum, Macadamia Oil also has phytosterols, allowing enhanced penetrations to the skin's deeper layers.
Hypoallergenic. Macadamia nut seed oil is hypoallergenic. It does not irritate the skin. It goes even further than not cause irritation to the skin. The phytosterols in Macadamia Oil eases irritation and acts like cortisone as it minimizes redness, itch, and inflammation.
For this reason, even people with nut allergies can tolerate and use Macadamia Oil. Of course, do a patch test first before committing.
Non-comedogenic. Because Macadamia Oil is light and not greasy, it will not clog the skin's pores. Macadamia Oil also naturally mimics the skin's natural sebum composition, so it is easily spread and absorbed into the skin.
Rich in antioxidants: Squalene and Vitamin E.
Antioxidant Squalene - Commonly sourced from shark livers, Squalene from Macadamia is a vegan and cruelty-free alternative. Fatty acid Squalene regulates the liquids in cell membranes, crucial in maintaining our skin healthy and moisturized. Being an antioxidant, Squalene helps combat free-radicals and minimize oxidative stress to protect and rejuvenate our cells.
Antioxidant Vitamin E - An antioxidant's main functions are to reduce oxidative stress and signal repair of cells when needed. Vitamin E as an antioxidant helps guard against cell damage.
Packed with Fatty Acids. Macadamia Oil contains around 85% monounsaturated fats, even exceeding that of Olive Oil. Macadamia Oil contains essential fatty acids such as the anti-inflammatory oleic acid, necessary for balanced hydration. With a healthy balance of Omega 3 to Omega 6 ratio, Macadamia Oil is superb at moisturizing and softening both hair and skin.
For all Skin Types. As discussed above, people with sensitive skin or breakout-prone skin can use Macadamia Oil due to its hypoallergenic and soothing anti-inflammatory properties. Normal and dry skin types will also benefit from Macadamia Oil because of its affinity to natural sebum, which means ease of application and delivery of micronutrients into the deeper layers of the skin.
Skin Benefits of Macadamia Oil
Bolters Skin Barrier
When the skin's lipid barrier is not balanced and fully functioning, dryness and water loss from cells happens. Having a healthy skin barrier is essential. Macadamia Oil contains linoleic acid, which helps balance the skin's barrier function to prevent dehydration and minimizing trans-epidermal water loss (TEWL). Restore depleted lipid barrier to ensure healthy, soft, hydrated skin.
Balances Oily Skin
Believe it or not, oily skin needs some hydration too. When skin is constantly being stripped of its natural oils. The body compensates by creating more of what an oily skin type doesn't want more – oil.
Macadamia Oil is one of the best natural oils for use on oily and breakout-prone skin. It is lightweight and non-comedogenic. Linoleic acid is also useful for balancing the sebum production on oily skin types, creating a natural protective barrier against damage and environmental stress to the skin.
Moisturizes Dry Skin
Dry skin often develops when the lipid barrier's function is disturbed. Dull and tired-looking skin needs a jumpstart in hydration. Macadamia Oil helps by restoring balance in the skin's lipid barrier. First, remember to exfoliate the dead skin cells so the precious oils can penetrate and do their job.
Repair Acne Scars and Stretch Marks
While Macadamia oil is wonderful at nourishing and balancing the skin, it also helps the skin repair and rejuvenate. The antioxidant content of Macadamia Oil encourages skin repair. High in oleic, linoleic, and palmitoleic acids effectively prevent scar formation and minimize existing scars.
Minimizes Itch and Rash
The phytosterols contained in Macadamia Oil helps ease inflammation. Phytosterols are the Lego-blocks that form our cell membranes. It helps calm any itchiness and redness. Balanced proportions of Omega 3 and Omega 6, Macadamia Oil is effective and gentle with sensitive skin or skin with rashes and irritation.
Prevent Premature Wrinkles
Linoleic acid present in Macadamia Oil helps retain hydration in the skin by reducing trans-epidermal water loss, thus keeping the skin supple. Palmitoleic acid and squalene in Macadamia Oil help prevent the formation of premature wrinkles. Apply Macadamia Oil to your skin increases the skin's palmitoleic fatty acid levels, therefore decreases and delays skin deterioration and discouraging line and wrinkles from forming. Macadamia Oil is one of the best anti-aging natural oils around.
How to Use Macadamia Oil for the Skin
Makeup Remover and Cleanser
Remove makeup and the day's dust and dirt naturally with Macadamia Oil. Macadamia Oil can be just effective as regular cleansers because of its penetrative ability and spreadability without toxic chemicals. Lightweight and non-comedogenic, you don't have to worry about it clogging the pores.
Rub a few drops of Macadamia Oil onto dry skin and gently massage over the skin. Wipe off with cotton pads or with a warm washcloth. Or choose a Macadamia-based cleanser for ease of use.
Face and Body Moisturizer
Use Macadamia Oil by itself or, better yet, a formulation with Macadamia Oil and other natural ingredients to moisturize the face and body. Macadamia oil is full of nourishing and healing properties and keeps your skin hydrated naturally.
Mimicking the skin's sebum composition, as well as the pH of the human skin. Macadamia Oil is easily absorbed yet isn't heavy and won't leave a greasy feeling.
Sunburn Reliever
After hours in the sun, with that golden skin tone in mind, the skin is practically stressed. Boost skin lipid that may be lost with linoleic acid-rich Macadamia Oil.
Sunburnt skin may also be itchy. The phytosterols in Macadamia Oil will help ease the itch. Soothe and hydrate the skin with Macadamia Oil-based lotion or serum.
After Exfoliation or Depilation Oil
Hair removal sessions will disrupt healthy skin. Aftercare for hair removals is recommended. Macadamia Oil is great for this job; all the nutrients, the ease of spreading and absorption, and the sterols in Macadamia that soothes skin stressors and irritation.
Exfoliation can also strip the skin lipids. It's important to choose a face or body scrub with natural soothing ingredients such as Macadamia Oil.