Skin Beneficial: The Beautiful Roles Clay Plays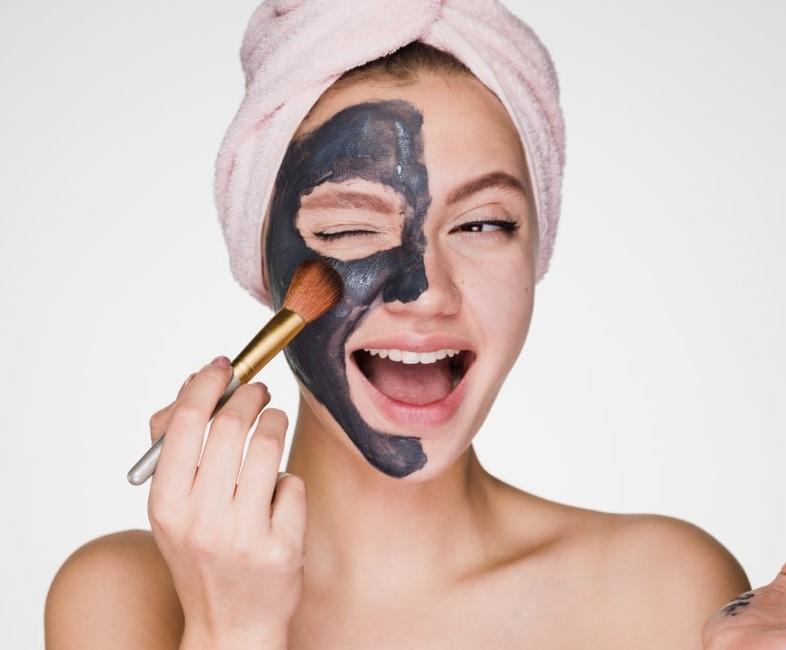 Although clay has become a superstar ingredient in today's natural skincare scene, people have been clay-slathering for health and mud-masking for beauty for centuries. Bags and bottles of clay for face, body, and hair has been steadily invading the modern skincare dressers. With a rainbow of cosmetic clay to choose from, easing skin maladies from excess oiliness and acne to sagging and dull skin, it's little wonder the way clay surges in popularity.
Do clay masks actually work, and do they really benefit your skin? Keep reading to discover the many wonderful roles clay plays towards achieving healthy, fresh skin.
CLAY AS VACUUM FOR IMPURITIES
Skin faces a deluge of irritants on a daily basis. Even if you cleanse your skin daily, dirt, makeup, excess oil, pollution, and other environmental skin stressors can sink deep into the pores. As you undoubtedly already know, clogged pores are a major factor in skin breakouts and irritation. Some products create a buildup film on the skin and hair that no amount of washing with regular cleansers can totally remove.
Clay can safely remove these buildups and relieve pores of unwanted debris and contaminants, thus keeping breakouts away. A once to twice weekly clay treatment can help maintain a clean canvas for a purified, beautiful skin.
CLAY AS AN OIL ABSORBER AND SKIN MATTIFIER
Clay does indeed work to draw out impurities, including excess oil. It reduces the shiny, greasy look and feel of skin and scalp. Some finishing powders, loose or pressed, contain a percentage of clay in their formulation to help control shine without over-drying. Clay masks with Activated Charcoal work in tandem to soak up excess oil and regulate sebum production.
CLAY AS DRY, ITCHY SKIN RELIEVER
Even though clay, as a skincare component of masks and scrubs, is suitable to all skin types, clay has been wrongly associated as an oily skin exclusive.
Clay is an excellent base ingredient; while it contains inherent skin-beneficial minerals, it can also hold other components to suit any skin type. Depending on a formulation, clay products can benefit oily or dry skin and any skin type in between.
Dead skin lingering on the skin's surface will prevent the absorption of creams and serums that aim to hydrate the skin beneath. Liftoff dead skin cells that make up the top layer of dry skin by clay masking. Clay with Hyaluronic Acid and Collagen works to exfoliate, condition, and moisturize the skin at the same time.
CLAY AS SKIN BALANCE RESTORER
Oily on the T-zone, across the forehead and down the nose and chin, and dry or normal on the cheeks and elsewhere? Clay can help restore balance and helps level the skin's pH. Green clay is perfect for combination skin types.
CLAY AS PORE REFINER
While no one can eliminate pores, that's how our skin breathes, after all. Some of us suffer from larger, quite noticeable pores. Refining the pores has become a major skin goal, so much so that the beauty and skincare section offers countless products that promise to shrink pores to oblivion.
If you are looking to minimize pores, look no further than clay. When clay is 'processing', the skin feels a little tighter. That's the time clay is absorbing excess oil and pulling out trapped sebum and dirt. Trapped debris and skin contaminants enlarge the pores; purging them will help shrink the pores to a normal or smaller size. Regular use of clay helps reverse enlarged pores and blurs them to appear less noticeable, to achieve that coveted smooth complexion.
CLAY AS SKIN BREAKOUT CLEARER AND SHIELD
Aside from diet, sleep, and exercise (or the lack thereof), acne breakouts arise from trapped dirt, oil, and environmental pollutants, all sealed under layers of dead skin cells.
Clay serves as mild exfoliant. It gently buffs off clingy dead skin cells so that the trapped debris can be freed and rendered harmless, thereby making breakouts under control. Tea tree, Rosemary, and Oregano essential oils or extracts make clay work even better.
The high mineral content of clay can condition and soothe irritated skin. Acne, whiteheads and blackheads, excessive oiliness and shine, all these can be helped with regular masking of a good quality clay.
CLAY AS GENTLE EXFOLIATOR
Clay is a gentler alternative to physical abrasives and chemical exfoliators. If you have sensitive skin or irritated skin and want to exfoliate, clay is a suitable choice. There are no particles present in clay that might introduce microtears to already stressed skin. As clay dries and washes off, along goes dead skin cells – no rubbing needed.
If you feel the need for a little bit more strength, coffee, sugar, salt, or pumice granules mixed with clay will amp up clay's exfoliating power.
CLAY AS SKIN BRIGHTENER
When your skin looks dull, lackluster, and tired, clay will brighten your complexion in a few minutes. Among other possible causes of dull skin are stress and dead skin buildup. Brighten your skin with a blend of clay and Vitamin C-rich ingredients such as Kakadu Plum, citrus fruits, and berries. Clay with Vitamins C and B12 will even go one step further than just brightening the complexion; this blend helps lightens hyperpigmentation.
CLAY AS SKIN FIRMER AND LIFTER
Need a natural way to firm and lift sagging skin? Clay may be the right ingredient for you. Not only will clay shrink pores by vacuuming excess oil and debris, but clay appears to also tighten the skin in general. Clay contains minerals, including salt, that naturally perk up the complexion. Mixing Vitamin C and Collagen with clay will boost clay facelifting effects. For a more lifted jawline, try using clay with a facelifting neoprene face mask for at least 10 minutes.
CLAY AS SCALP EXFOLIATOR
Scalp is skin, so everything clay does to benefit skin found elsewhere can benefit the scalp. From itchy scalp due to flaking, dry skin to oily, greasy scalp, regular scalp clay masking or scrubbing can do wonders for scalp issues. Scalp and hair accumulate hair conditioning and hairstyling product buildup that clog the follicles and dull the hair strands. Clean, unclogged follicles create strong, thicker hair.
Pressed for time? Choose a scalp clay mask that also acts as a shampoo—no need to pre-mask the scalp before shampooing.