The 3 WHATs of Stretch Marks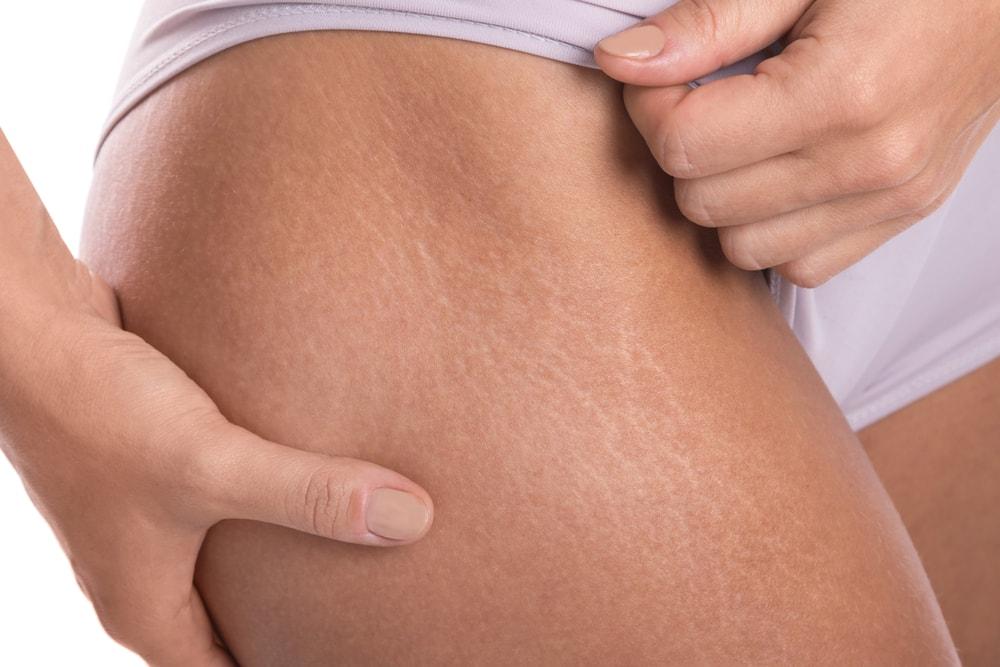 Stretch marks, those unsightly tiger claw striped scars that we'd wish we can somehow do a magical disappearing act on. They can happen to anyone, at any age and gender. They can appear all over the body, but usually on the tummy, chest, and hips. Even though it is not fatal to have stretch marks, most people would do anything to get rid of them. Here, we explore the WHATs about stretch marks: what they are, what can cause them to come about, and what to do to treat them.
WHAT ARE STRETCH MARKS?
Everyone who's reading this article, probably can easily answer that question. Or most likely, perform a little show-and-tell as an answer; if they're not shy about having stretch marks. If that's you, you can skip down to the next section. But for the lucky few who has not met a stretch mark yet, then continue reading.
Stretch marks are scars of fine, depressed lines. They are usually reddish, purple or pink in color, when they are fresh. As we age, stretch marks gradually blend into the surrounding skin by turning white, silvery, or very light brown, depending on the natural skin tone, expect them to start to changing colors within six months to a year from the time they've first appeared. Stretch marks tend to occur in fatty areas and/or stretched areas such as the abs, chest, thighs and hips. On some people they also appear on the arms, calves and back.
To most, having stretch marks is equivalent to saying goodbye to wearing hot pants, bikini and any garment that would expose them.
WHAT CAUSES PEOPLE TO GET STRETCH MARKS?
Stretch marks are created when the skin, more accurately, its collagen and elastin fibers are suddenly stretched by rapid growth or weight gain, these same fluctuations occur during puberty or pregnancy, hence the abundance of instances when stretch marks happen to people who are undergoing these life changes. When the body expands faster than the skin can accommodate, skin tears are formed, as these tears heal, they turn into scars.
There is a prevailing myth that stretch marks appear because one is overweight. And indeed most stretch marks appear during a woman's pregnancy, when women at this stage gain weight; perhaps further solidifying this myth. Stretch marks are simply signs that the dermis, the deeper layer of the skin, is stretched during rapid growth.
This is why you would see teenagers who are fit and healthy and have stretch marks. And also why you'd see some truly overweight people without a line of stretch mark in their bodies.
Stretch marks will likely occur:
• Familial history of stretch marks
• Puberty or any rapid growth spurts
• Pregnancy
• Rapid weight gain, weight loss as in yo-yo dieting
• Weight trainers or athletes sometimes get stretch marks from developing muscle mass.
WHAT CAN I DO TO TREAT OR MINIMIZE STRETCH MARKS?
Even though there is a growing trend where people are starting to accept and embrace stretch marks, indeed some women are displaying theirs as symbols proudly announcing their motherhoods; others are incessantly in search for a 'cure', a method to get rid or even just to lessen the appearance of stretch marks.
While stretch marks may never completely vanish, except maybe through costly combo treatments of laser and dermal needling, stretch marks do fade over time. They become less and less noticeable.
Caring for overly stretched skin can hasten the fading and reduce the intensity of stretch marks. Exfoliation of the dead cells of the scars is a must, so that skin nutrients can go through and start to heal. Stay away from plastic exfoliating micro-beads, they can do more harm than good both to your skin and to the environment.
Use coffee based scrubs instead. Coffee is an effective, natural skin exfoliator and stretch mark minimizer because of its antioxidant and anti-inflammatory properties. Antioxidants allow for the repair of damaged cells, and anti-inflammatory works to calm redness and puffiness. Follow with a healing oil or skin cream to further soften and moisturize the skin. And always allow your skin to rejuvenate by having rest periods in between scrubbings.